So what exactly is a swim spa?
You may have heard of them being referred to as many different names, some of the more frequent ones are: endless pool, lap pool, swim spa, exercise spa, swim jacuzzi, jet pool and our favourite from a recent chat with a customer was 'turbo pool'!
But in most cases, what potential buyers are trying to describe is the same thing; an extra-large hot tub that can have water diverted so that it travels from one end of the spa to the other. This continuous stream of water gives you a current to swim against, and because you don't ever have to turn, it really is an endless pool!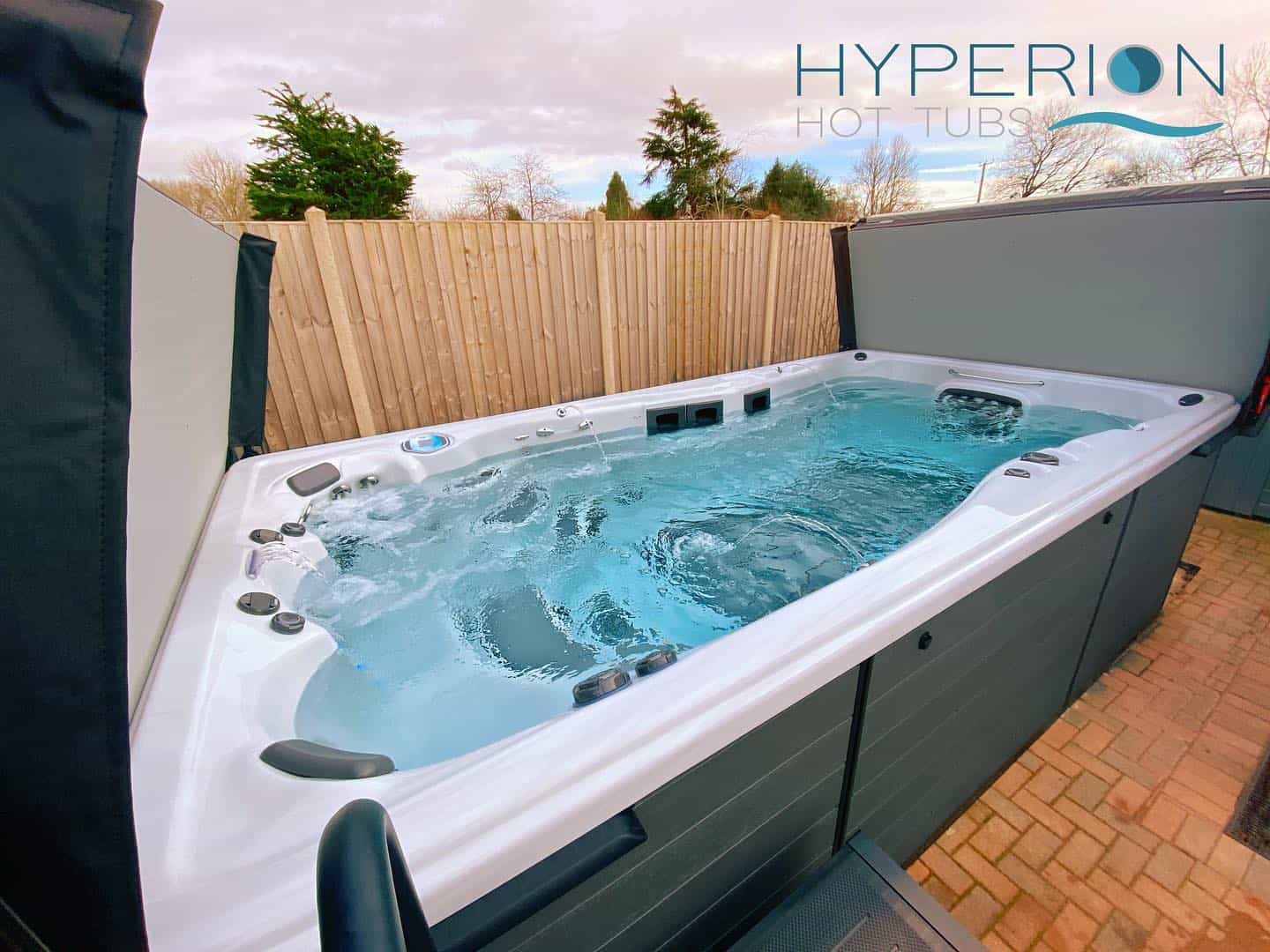 A pool alternative
If you are new to this type of spa, you may well ask yourself a very simple question! Can it really can be a replacement for a traditional swimming pool? The answer is a resounding yes and in many use cases they are better than your typical inground pool.
Unlike a normal swimming pool which takes up a large amount of space and costs a significant sum of money, a swim spa offers a more compact footprint and is more economical to buy, install and operate. They also offer a true all-season pool experience, meaning you can train year-round with no off-season.
What it is
A swim spa to all intents and purposes is a lot like a hot tub. But typically they are much taller, wider and longer to allow for exercise. Swim spas are often made in the same way as a hot tub; with an acrylic shell, that is reinforced with fibreglass and they operate in much the same way.
There will most likely be seating at one end to allow for post exercise relaxation and hydrotherapy, while the rest of the internal space is left uncluttered to allow for maximum freedom of movement. The far end will include some means of propulsion, normally driven by a turbine or water pump. This is what creates the swim current and often provides power to the seats for the massage function.
The spa can be heated to your desired temperature for year-round use, typically around 30ºc when exercising. An inbuilt filtration system keeps your water lovely and clean with the minimum of fuss. The unit is completely self-contained and only needs connecting to an external power supply, everything else is within the cabinet.
What can they do
Swim spas should really be called exercise spas as the range of training options you can perform goes far beyond swimming. You can:
Swim
Run
Cycle
Row
Resistance train
Perform aerobics
And the best thing of all, is you can perform all of these in the comfort of a low impact environment that is easy on your joints due to the buoyancy of the water, not to mention the warm water aids in improving your circulation, ideal if you are rehabilitating any injuries or aiming to improve your range of motion.
Lastly, unlike a traditional swimming pool, you have inbuilt seating, so you can relax and experience a powerful hydrotherapy massage right after your workout, helping to promote your recovery. With many high-end models displaying the same features you would find in a range topping hot tub, a swim spa can combine the best of both worlds.
Swim spa categories
Much like hot tubs, you will find that exercise spas fit into three main categories, which are:
Entry level / therapy:
These models represent the more affordable end of the market, but they are just as well made as their counterparts. In fact, all Master Spas swim spas are made on the same production line so quality is at a constant; it is the features and size that vary.
This range is ideal for someone who is looking for a spa in which to perform light exercise, take a gentle swim or have fun with the kids. It's also a great place to improve range of motion and rehabilitate any injuries.
Characterized by:
Lower number of pumps and jets
Less adjustability in the water flow
A great example would be the Therapool 13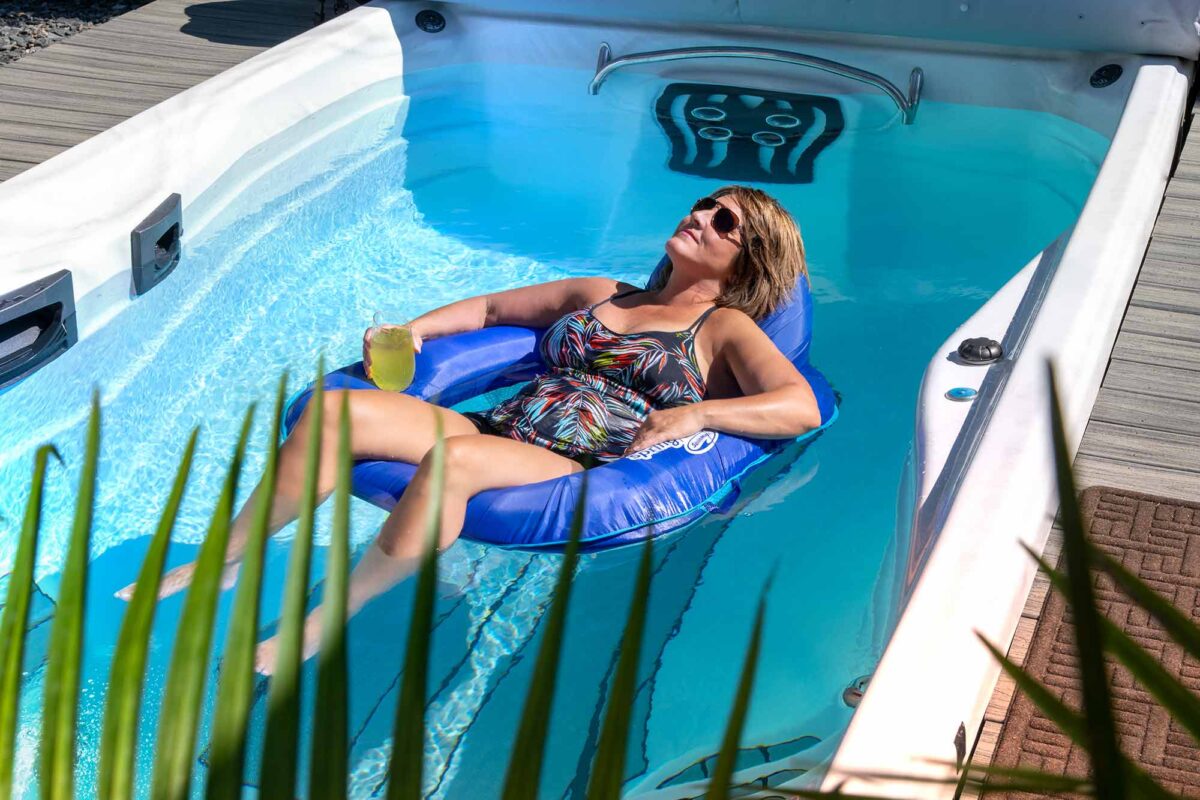 Mid-level / training:
These spas now offer a true exercise solution in your garden, with enough power and adjustability to cater for the fitness enthusiast.
You will experience increased resistance when swimming compared to an entry level spa, as well as more control over the flow. This will allow you to find the right level for your workout more easily.
This range now includes options for dual temperature models, which have separate exercise and hydrotherapy zones. This has the added benefit of allowing you to keep the swim area cooler for exercise and the spa warmer for relaxing in the evening.
Characterized by:
Multiple pumps and jets for increased resistance and hydrotherapy
More adjustability to the water flow, allowing you to find the sweet spot more easily
See the Trainer 19 for an example of a dual temperature spa.
High end / competitive:
Models from the top tier of swim spas offer a fantastic breadth of ability, from a child having their very first swim, quite literally to Michael Phelps carrying out a training session.
Whilst they have lots of raw power to challenge all abilities, its really this added level of customisation that helps set them apart.
The quality of the water flow will now be at its highest, where we expect to see a smooth, turbulence free swim lane, despite the higher potential current speed.
The highest tier may have a turbine system with programmable workouts and training zones.
Characterized by:
Multiple pumps or turbine system for maximum water flow
Very high level of adjustability to cater for every level of training effort
The Michael Phelps Momentum represents the pinnacle of swim spas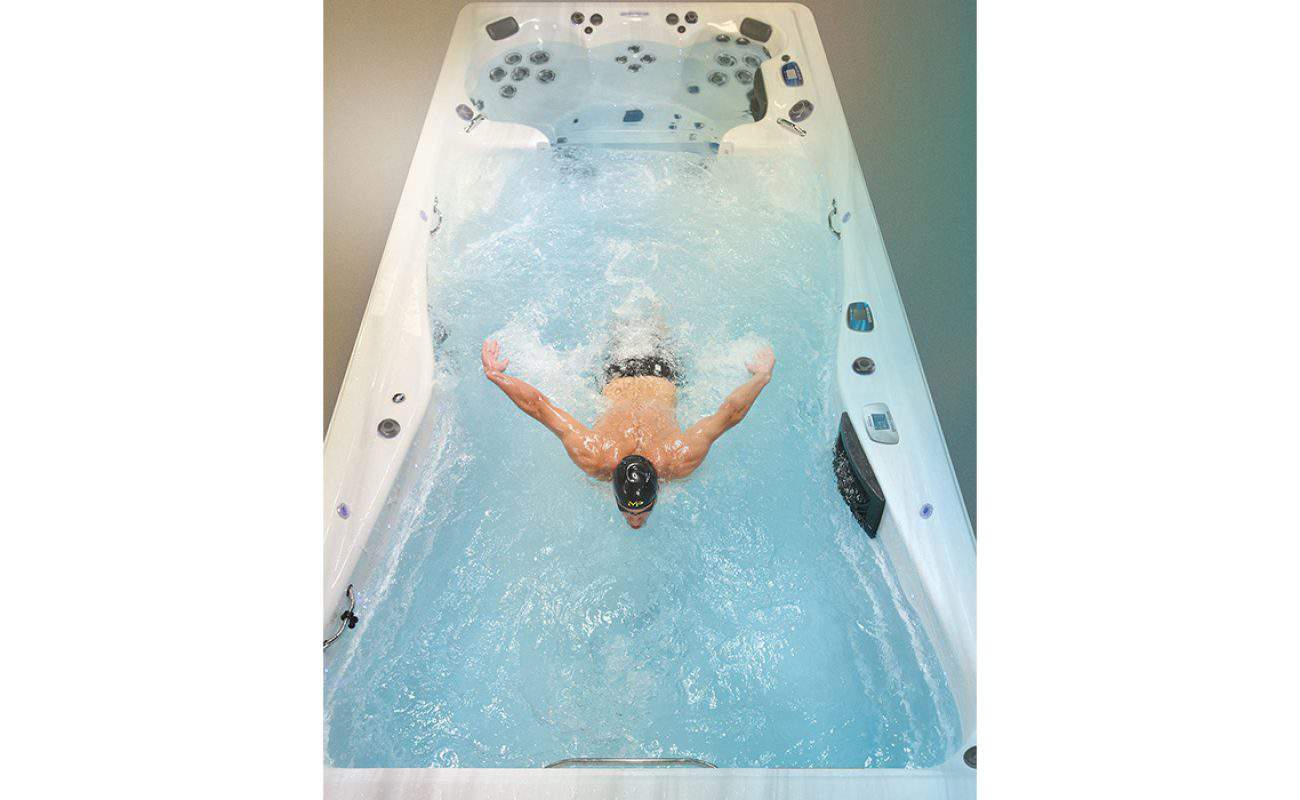 Who are swim spas for:
The short answer is everyone! As we have already mentioned, they are far more than a swimming tool, so if you don't like swimming, that should not rule them out as you can row, cycle, run and resistance train.
The smaller models offer a relatively restrained current and bigger more powerful versions have a wealth of adjustability. So they are not the preserve of athletes only, far from it. The majority of owners are not competitive athletes, but people who value having a means to exercise right in their own home and have some fun at the same time.
Why you should consider a swim spa:
The benefits of a normal above ground or inground pool, but in a smaller footprint
Far easier to train and swim in, no constant turning at either end
Easier installation and ongoing maintenance, everything is in a self-contained unit
The benefits of a hot tub and pool, all in one attractive package
A complete fitness solution you can enjoy year-round, there is no need to winterise, it can be used 365 days a year.
More economical to maintain, less chemicals needed and far less energy to heat than a traditional pool
You can take it with you should you decide to move
Come and see one:
If you are thinking a swim spa could be ideal for your needs, we have several on display in our showroom and there is always one up and running.
We can discuss your proposed site and what you wish to gain from a swim spa and use this knowledge to help you find the perfect one for you.
We even offer wet tests, where you can try out all that one of these spas has to offer, just contact us first to arrange a suitable time.